What we do
Revolutionize your digital landscape
We help companies embrace technology, leveraging digital products to constantly adapt and win in an ever-changing business climate. 
Leveraging change to your advantage
Align your organization, users, and customers to your digital products through organizational and process transformation. 
Digital transformation
Cloud adoption
Product mindset
Design thinking
Agile adoption
Sentera: Improving Outcomes for Growers
case study
The Product Mindset
insight
Cargill: Commodities Trading in the Cloud
case study
Driving value for all
Balance the needs of your organization, customers, and users to realize true value from your innovation and win your market. 
Product leadership
Experience design
Design systems
Prototype development
Cloud architecture
I Spent Too Much on the Cloud
podcast
Orange Tree: Customized Online Employment Screening
case study
Customizing the Travel Portal Experience
case study
Delivery focused engineering
Engage the right resources experienced in building and delivering digital products to position you for long term success.
Cloud
Web applications
Business intelligence
Low-code
Machine learning
Internet of Things (IoT)
Protolabs: On-demand, Interactive Quoting
case study
The QA Automation Journey
podcast
Cargill: Commodities Trading, in the Cloud
case study
Every project is unique. SDG provides a variety of engagement models to fit your needs.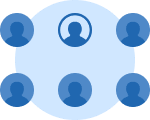 Complete Team
Surround your leaders with a full complement of solution-builders and problem-solvers.
Collaborative Partnership
Engage a collaborative team to partner with your staff and accelerate results.
Embedded Experts
Enhance your capacity and skills with embedded, targeted expertise.